W
ell with the help of Rod, thank you so much Rod. I am such a blonde when it comes to being technical. With the help of the above stated, I was able to successfully complete my hit list A.K.A. Trent's Top 10!!! I was stressing Rashid out! Poor thing he was doing everything he could to try to help me put these pictures in my blog...but he had a positive outlook, so thank you guys both.
I
love
black men. I can't help it. I just do. We are a beautiful, we're talented and we're so opposite of what the media portrays. Yet we're full of shit at times, deceitful, liars, confused, scared, game players and all the other shit that goes along with that, I haven't and won't give up on Black men. Giving up on a Black man is like giving up on myself and that just can't happen.
Anyway. I've complied a list of my personal 10...The Ten men that would change my life. I'd get married without a pre-nump, and submit to their every wish and desire. Hmm...lets start with
1. Method Man
I just can't get enough of his rugged, handsome thug appeal.
So what he has a messed up grill, he's still fine and he
needs to shout me a holler. Period. I have a thang for Method Man!

2. BORIS!

3. Shawn Wayans
I think Shawn is one of my personal favorites. If I ever see him in public I will scream like a white girl at a Michael Jackson concert, or a white woman clinging to any Black man with money. Hmm..
"How You Doin'?"
Shawn...

4. Morris Chestnut.
Has lost all cool points with me. And rightfully so. He used to be number two on the list. Now Four. Go figure. He's still a hottie and represents the chocolate boys to the fullest.

5. Marques Houston
The pretty boy next door. It doesn't help that we're
the same age and live in the same neighborhood.
Among his good looks he has a very nice personality to go along with it
Keep a close watch on him, he'll have his "Usher" moment real soon, he's
been in the game too long not to have his defining moment.

6. Laz Alonso.
C-list hottie with a plan. I'd take him any day. Although he still has the groupies he knows how to appreciate things because work doesn't come that much. Which means he knows how to value and hold on to things (i.e., me...) I think he just like everyone else on the list is a gay man's fantasy...but half of these fools need to come out of the closet...but I could never go up to Laz and ask him how he's doin'.

Anyone who knows me knows that I like the roughneck appeal. There is nothing wrong with that. Not to be misconstrued with tha "Soljah" theory that Beyonce and her crew initiated earlier this year. Brian has an identical twin, Brandon-who is such the opposite of Brian and doesn't offer the same flair. The other twin, is just that. The other twin. So Brian, I am coming to ATL soon, can I shout you a holler and get the keys to the range?
8. Hill Harper
Ivy League Grad turned CSI Actor turned
fine ass hell and fantasy item number 8 on my list.
Um can you use that Law Degree on a personal case I need you to handle?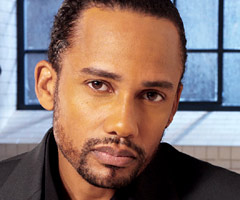 9. FA-BO-LOUS.
What is it about the Chip toothed kid with the crooked smile that gets me worked up. The Ghetto garb? The laid back "mase-esque" speech impediment? Or is it his hood cuteness that is attractive? He's cute and he's got a hustle. I think he maybe one of the only rappers that doesn't have to rap about rims, kicking your ass, shooting you or selling drugs to get a hit, which is even more attractive which says a lot about his character. Go Fab.

10. Pretty Boy Mikey, Michael Ealy.
This is just an honorable mention. Really I am starting
to believe that he is nothing more than a cute face. Which is a turn off. Fuck a pretty
piss-colored face. And Besides I am not too fond of Mike's especially since the last one I sucked off was cute and light skinned too. Bastard...lol

Well that's my list. I'm sure I'll catch some flack for this one. But I have good taste. Tell me who I left off....Where are all the chocolate boys at?